Spanish Version

France Version
In this page I want to contribute to the World of the Colombofilia, contributing all my experiences and knowledge that I have acquired in 55 years of pigeon, 13 years of President of the Federation the International, 2 years of Vice-president 1º of the Federation the International and 20 years of President of the Spanish Federation.

This page is compound of:

A news article on my life made by my companions and friends.


A section on Veterinary medicine, directed by recognized veterinary, specialistic in carrier pigeons Don Jose Merchan.


A debate forum.


Information on the activities of the Colombofilia in the World. Results obtained in the this year.


A section in which I explain some of my experiences of the World Pigeon and stories on some of the doves that have given great satisfaction me.


In my trophies I will relate some of the most important sport successes of the last years.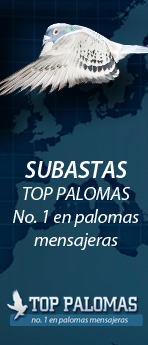 News

Next meeting of the Committee Director of the Federation Pigeon the International
10 of April of 2002

Next Championships

Grand Prix FCI
Hungary September 02'
Ibiza October 02'

Championship of World F.C.I.
France August 02'
Championship of Europe
Portugal (Mira) July 02'

Colombódromos
Spain(Vinaroz) Jul.
Belgium (Geetbets) Jul.
Belgium(Geetbets) Sep.
Spain(Terrasa) Jul.
France(Perpiñán) Ago.
France(Royen) Ago.
China (Pekín) Oct.

Last Results

4º Grand Prix Thailand

3º Grand Prix Argentina

3º As paloma Grand Prix Argentina